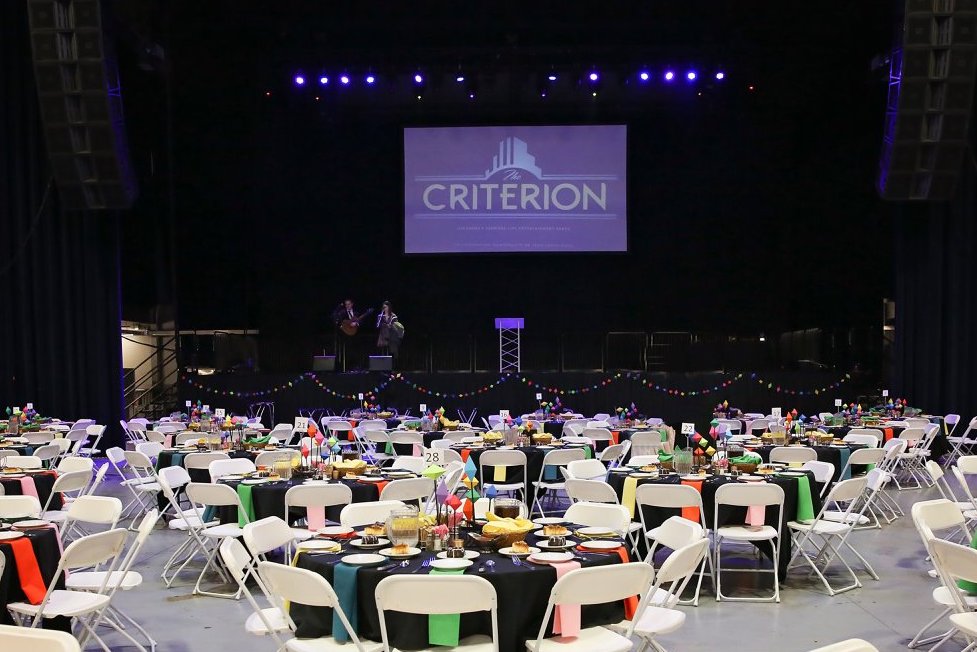 Storytelling: Angels 2018 Gala
What almost didn't happen turned out to be better than we could have hoped for.
The Angels 2018 gala, our annual February benefit event, ended up taking place during the single ice storm of the 2017-2018 winter season. While we knew our loyal donors and guests would brave the slick roads and the bitter night to attend the event at The Criterion in downtown Oklahoma City, we became truly concerned when our guest speaker, Jen Hatmaker, was hit with delayed and cancelled flights into OKC due to the weather. We didn't have a backup plan, especially not someone who could fill Jen's shoes. But luck and fate were ultimately on our side as Jen arrived just minutes before our program started. She truly wowed us all that night with her impassioned, honest, down-to-earth presentation and heartfelt plea for everyone to come alongside foster kids to help make their lives better through donor-ship, volunteerism, and even by becoming a foster parent. She is a true gem, and the impact of her speech and presence will continue to ripple out and out into our community.
We were delighted to be able to recognize a few wonderful friends and important players in the world of foster care this year. Nanette Haag, who is a bastion in our community, was honored for her six years on the Angels board. She has been with Angels since the beginning and her hard work and heart for children in foster care helped us grow immensely. Even though Nanette has rotated off our Board of Directors we know she will continue to be involved and have an impact on children in foster care.
The Angels Amity Award was given to ICG, our creative friends who rebranded Angels in 2015, creates our yearly spotlight videos, and have been generous donors and dear friends for many years.
This year, their video focused on foster parents Tammy and Russell Swiggart, who were awarded with the 2018 Halo Award. Their fierce compassion and advocacy in the foster care community makes them truly deserving of every bit of recognition they could receive.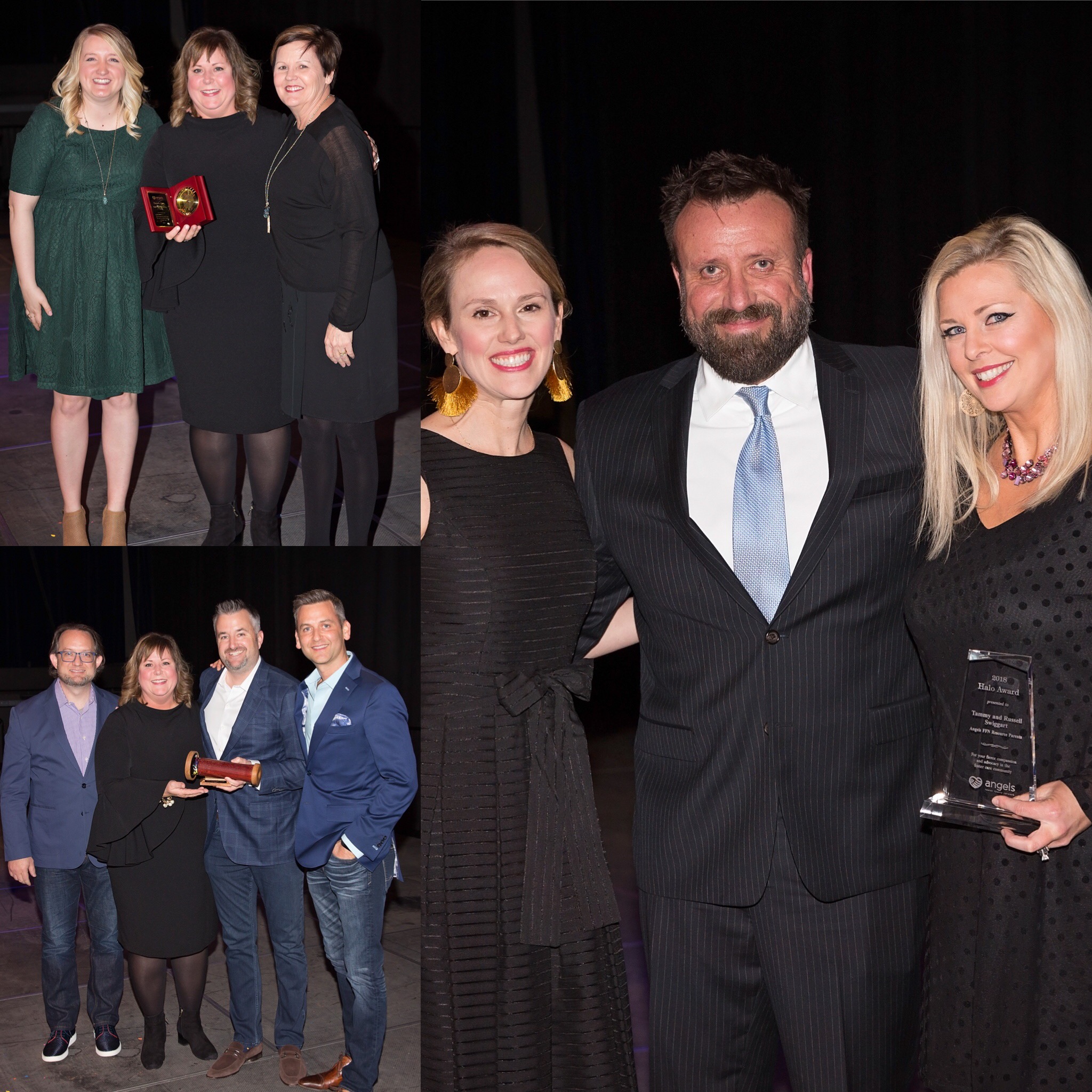 Pictured top left: Carla Dobbs (Angels FFN Community Relations), Jennifer Abney (Angels FFN Founder/Exec. Director), Nanette Haag (Angels FFN Board Member) Pictured bottom left: Doug Farthing (ICG CCO/Partner), Jennifer Abney (Angels FFN), Rusty Duncan (ICG CMO/Partner), Eric Joiner (ICG CEO/Partner) Pictured right: Hannah Vogt (Angels FFN Case Worker), Russell and Tammy Swiggart (Angels FFN Resource Parents)
This year, Angels raised just under $200,000, which is more than we have ever raised at a single event. We know that good things come to those who need it, and we know the love our donors have for our mission and for the foster children in the care of our foster families. Thank you to each member of the catering staff with Ned's Catering, and to all the fine folks at The Criterion. Thank you to Amy and Ryan Parker for the excellent pre-dinner entertainment, and to Jen Hatmaker, extraordinary speaker and friend to the least of these. And our deepest gratitude to you, our guests and donors, without whom none of this—training foster families, placing foster children into their homes, walking with these precious families through the foster care process—would be possible. You are our heroes.
We look forward to doing this all over again next year! Cheers!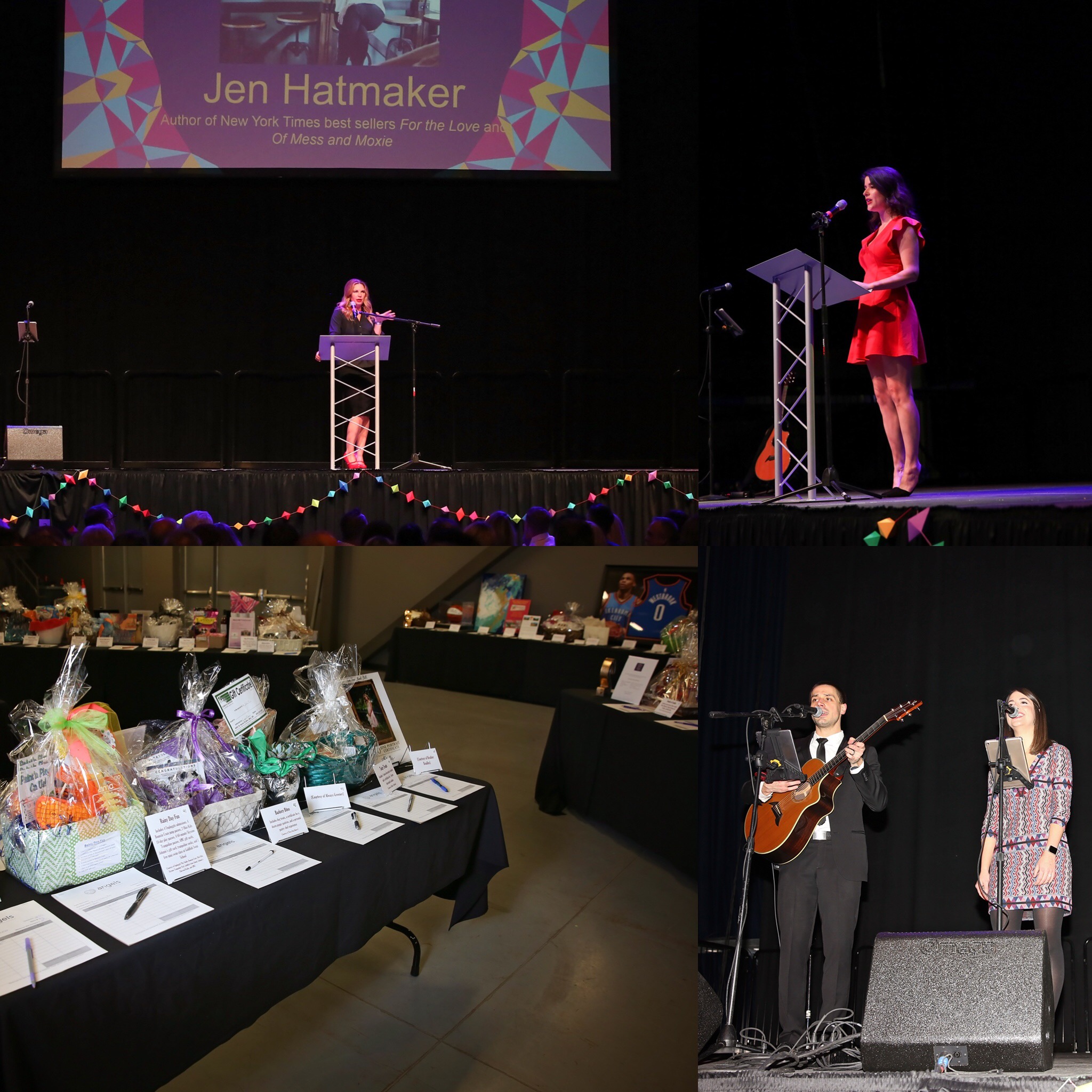 Thank you to our 2018 sponsors!
PRESENTING SPONSOR
Arnall Family Foundation
PLATINUM SPONSORS
ICG
Mary and Chris Nichols
Jean and David McLaughlin
RCB Bank
Total Wellness
SILVER SPONSORS
American Fidelity
Bill and Melynda McClure
Christi and Eric Woodworth
Dale and Tammy Bresee
Evans & Davis
Gary and Michelle Brooks
Phillips Murrah
Premier Insurance
Wake Energy
Bloom Medical Aesthetic
Enable Midstream Partners
Linque Hilton Gillett Law Office
Lucas and Stacy Trigler
Miller-Tippens Construction Company
MSS & Associates
OKC Thunder
TCS Construction
Jaena and Matt Pope
Lewis Orthodontics
Oklahoma Fidelity Bank